Apps make life easier, supporting you in various aspects of everyday life from the convenience of your smartphone, tablet or even computer. And the fitness arena is no different – fitness apps can provide immense support to help you reach your health goals. If you choose the right one, it's almost like having a personal trainer or other health professional walking around with you, helping you make the right decisions. This compilation gives you some helpful app options that are related to fitness. Even if you already rely on fitness apps for a little guidance and motivation, you might find a new one that's worth having on this list.

Gain Guidance and Support With Fitness Apps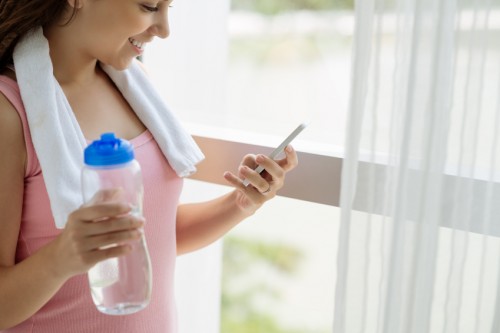 You may have heard of the way music can help you work out better. That's based on choosing the right tunes that have a certain number of beats per minute. The Spring app finds the music for you, providing songs with just the right tempo to help you improve your performance. This is a free app.
Need some motivation to keep going with your exercises? The Charity Miles app provides just the thing. On top of providing the many mental and physical benefits exercise offers, your workouts will help charitable causes when you use this app. Sponsors pay for every mile you walk, run or bike, yet you won't have to pay a cent for this app.
Unsure of how to add a strength training component to your gym workout? Try the StrongLifts 5×5 app, which will guide you in using free weights. It encourages you to perform five sets with five reps each of three different weight training moves, guides you on when to take breaks and helps you figure out when you're ready for extra weight. This useful app is free.
Focus on Other Aspects of Fitness
Of course, you can't reach your physical peak without proper nutrition, so it's worth adding nutrition apps to your list. One great option is the Fooducate app. It eliminates the need to stand in the grocery store, reading every single food label and relating that to health information you'll have to research separately. In a quick and easy step that takes the work off your plate, this app tells you whether the ingredients in food will fit your nutrition goals. For instance, it can help you find the best choice out of numerous options to fit your personal needs and tell you whether food fits your specialty diet. All you have to do is take a picture of the barcode on each item. This app requires a small fee of $5.
Motivation, social support and accountability can do wonders for your fitness routine. If you don't have people in your life to provide these boosts, try the Pump Up app. It provides you with a social network where you can connect with other people working on their fitness. You can encourage each other on your journeys with this free app.
There are plenty of additional health and fitness apps available to you, so search for the ones that fit your personal preferences and fitness goals.