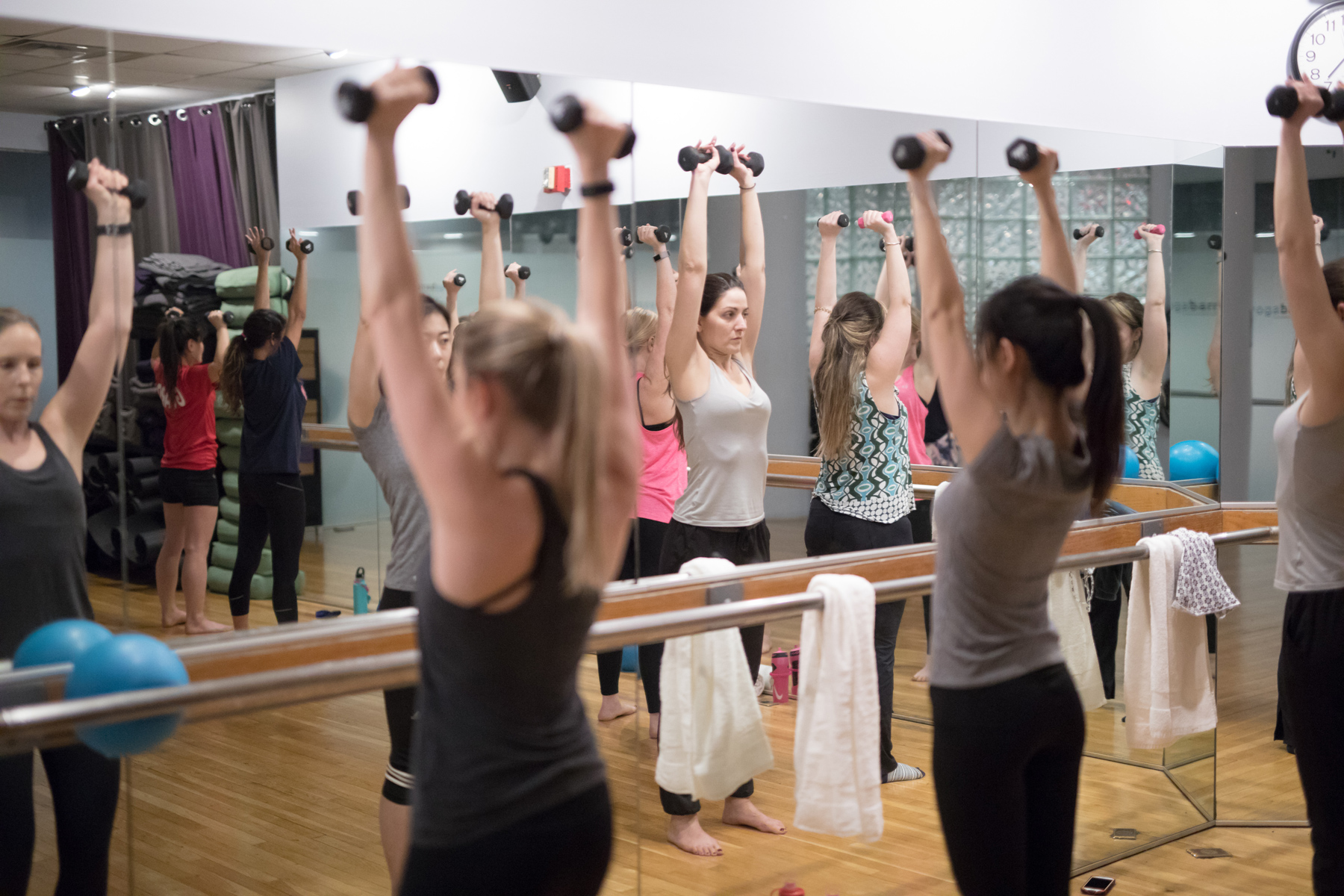 Large Studio Fitness
321 Shred: Strength work, cardio, and abs. Moving, grooving, and sweating the whole time! Uses weights, bands, med balls, etc.
Bailando: High intensity Latin dance
Bodypump: The original barbell workout that strengthens & sculpts your entire body. Train each muscle group to fatigue.
Cardio Crosstrain Circuit: Cardio & resistance components unite circuit-style for a complete workout.
Cardio Dance Jam: High energy dance class incorporating hip hop, jazz, and Latin moves. You'll dance, sweat, and move the whole time!
Core Meltdown: A challenge to change your abs and whole body with a nonstop pushing and pulling workout.
GFORCE: A multi-level, high intensity, fat burning muscle sculpting workout combining strength, cardio and tabata training principles.
JCK: Jab, Cross, Kick! Cardio kickboxing, guaranteed to make you sweat!
Step Burn 30: Fun, energizing step choreography.
Zumba: Shimmy, salsa, shake your booty! Learn easy to follow steps and dances with this Latin inspired cardio workout.
Zumba & Sculpt: Add weights for upper body!

YogaBarre Studio Fitness
Barre: Ballet & Pilates inspired sequences of exercises done at the barre that will tighten and tone your legs and booty!
BootyBarre: Combine yoga, dance, and ballet barre work with upper and lower body exercises.
Broga: Combines the best core-strengthening, muscle toning, cardio working, stress reducing yoga postures with functional fitness.
Classic Pilates Mat: A flow of classic Pilates exercises to work all your core muscles and includes stretches and breathing for the tighter areas.
Pilates Beats: Pilates mat class set to the beat of the music. Challenging and fun!
Pilates Barre Fusion: Combining barre and Pilates mat for a well rounded whole body workout.
Slow Flow Vinyasa Yoga: A series of asanas practiced in a slow flow with deep breathing technique to promote balance, flexibility, and relaxation.
Gentle Yoga: Learn the basics of Hatha yoga in a quiet and relaxed environment.
Qigong Tai Chi: De-stress through gentle, flowing movements with corresponding breathing techniques. Awaken your mind and spirit through breathing and feeling.
Yoga/Core: 15min of abs to start then transition into a core based vinyasa class.
Yoga/Flex: Increase your flexibility, improve balance, and give your body an overall treatment of tone and equality to the tight muscle areas.
Yoga/Restore: Tune out the world, tune into your mind body connection. Yoga breathing and asanas to help you relax and restore your body
Yoga/Strength: Strengthen your entire body with a strong vinyasa flow followed by intervals of resistance and weights.
Yoga Triple Play: 15 minutes each of yoga, core, and metabolic training.
Spinning Studio Fitness
Spinning: Ride inside with a variety of rides, movements, and motivation!
Spin & Shred: 30 min of Spinning followed by 15 min of core or whole body resistance work.
Salt Water Pool Fitness
Aqua Fit: Low impact aerobic workout in the pool. Increase strength and range of motion.
Aqua Qigong Tai Chi: Awaken your mind and body in the pool. Flowing movements and breathing techniques combined with the comfort of the water.