I actually have Craigslist to thank for my start in the fitness industry. I had just moved back to Boston and answered an ad for a front desk position. Since that day, CSC has become a huge part of my life. Fitness has always been important to me, whether it was playing sports or working out on my own, so being around other-like-minded individuals is perfect. Also, since I stopped eating meat when I was 13 learning about nutrition is a priority for me as well. Prior to CSC, I worked in the restaurant and hospitality industry and I've managed to translate a lot of those skills to my position here; I also just really love helping people!
Since I've been here, I've built some great relationships, with both the members and our staff. One thing that motivates me is that I love to learn and at CSC I've had the opportunity to learn something new every day. Our most successful and happiest members are those with that same strong desire to learn, that's why I like to help people get out of their comfort zone to try something new; I've seen first-hand what a positive impact it can have! My personal goal is to approach everything with an open mind and a positive attitude.
Two things (besides fitness) I'm really passionate about is music and travel. Luckily, I've been able to combine the two, making it a goal to see a show in a new city every year. On the weekends, I like to get out of the city. If it's warm, then I'm at the beach and if it's cold, I'm on a mountain snowboarding. With my free time I try to spend it with my family and friends. So if you see me in the club, stop and say hi and maybe tell me a little bit about yourself!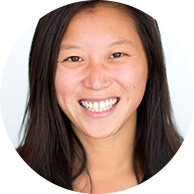 Angela Morton,
Administrative Operations Manager
Email Angela