[vc_row][vc_column width="2/3″]
I retired last summer and finally decided to address my underlying health issues at the age of 69; I was a complete couch potato. I had Type 2 diabetes, slightly elevated blood pressure, was 60 pounds overweight and arthritic with aching knees. I joined CSC at the suggestion of a friend who assured me that there were plenty of other women my age and that I would not be embarrassed. My overall goals were to gain control of my health, develop strength and stamina, and improve balance. Weight loss is important but secondary overall to my general well-being.
Seeing positive results now is continuing to motivate and spur me. My A1C sugar levels have dropped to normal, blood pressure is excellent, and I've lost 20 pounds through exercise and giving up sugar (at last!!). I still hate to exercise but I look forward to my weekly meeting with Krys M, who has been the perfect coach for me. Humor is very important to me, and Krys makes me laugh, even as he offers consistent positive reinforcement and pushes me just a bit further each week.
Well, as noted, my health is already improved; I have a lot more energy and stamina and, most important, more enthusiasm for life. But what I'm really excited about are the muscular changes in my body. I'm not just thinner but I have visible muscles, not just flab! My knees no longer hurt, I have better mobility and flexibility overall.
[/vc_column][vc_column width="1/3″]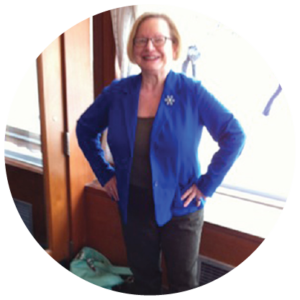 "When I joined CSC, I had Type 2 diabetes, was 60 lbs overweight and arthritic with aching knees. Now, I've lost 20 lbs by exercising and giving up sugar (at last)! I look forward to my weekly sessions with my personal trainer, who has been the perfect coach for me."
[/vc_column][/vc_row]