[vc_row][vc_column width="2/3″]
I've always been an athlete. I loved being involved in sports from a very young age through college. Once I graduated from BU, I looked for a gym that would keep me motivated. My friend recommended CSC, so I decided to give it a shot. I loved going to the classes, but I knew I needed something extra to really solidify my commitment to being active.
Tom is amazing at keeping our work outs engaging and challenging. He mixes it up for me every week so I have never been bored once. In addition to weight training, we do a lot of work with the pads and learning the finer details of boxing. I fell in love with boxing not just because it's an amazing work out but because the muscle control and strategy of the sport are a real mental as well as physical challenge.
Tom coached me all the way through a 3 month training program to get me ready for a real boxing match in front of a crowd. I would be lying if I said I wasn't nervous, but I knew I was ready. With Tom in my corner, it ended up being an amazing fight. In that moment I was an athlete again and the rush was something I will never forget. Even just a year ago I would have never thought I would box in a real match.
Tom gave me the training and the confidence to become a fighter, and I can't thank him enough for that. I will continue my training and hope to compete in more fights. I know I have everything I need to be an athlete for life. VICTORY TIME!
[/vc_column][vc_column width="1/3″]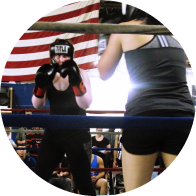 Colby works with
Personal Trainer: Tom Nyilis
"After taking Tom's boxing boot camp class consistently for a few months, I decided to go all in and have him train me one-on-one.
BEST DECISION EVER."
[/vc_column][/vc_row]