[vc_row][vc_column width="2/3″]
Working out has always been a big part of our lives. We were members of other gyms in the past, but when we moved to the area a few years ago and finally joined CSC in 2016, we saw what really sets this gym apart from the rest.
We quickly found our niche in the Group Ex classes that CSC offers. The wide variety of classes, from Yoga and Barre to G-Force and 321 Shred, has helped us cross-train and increase our strength, endurance, and flexibility.
Maria immediately welcomed us with open arms and has been a huge part of our journey so far. She has broadened our exercise routines and has shown us that having a variety of workouts is the key to success.
Though we are still working towards reaching our health and fitness goals, we find that everyday at CSC there is an opportunity to try something new and challenge ourselves.
[/vc_column][vc_column width="1/3″]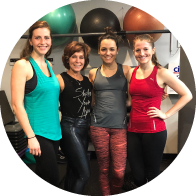 Brittany, Emily & Alexandra 
take classes with Maria Barry
[/vc_column][/vc_row]