What motivates me is Results. Growing up as a chubby kid with a speech impediment and an addiction to Pizza Lunchables, I had many insecurities and a lot of things that I wanted to see change. My weight seemed to be the one that I had the most control over, so I attacked it! At the age of 11, being moved by the work ethic of aspiring UFC fighters on "The Ultimate Fighter" TV show, I began to exercise independently at home before joining the wrestling team during my first year of middle school. I joined an MMA Gym that same summer where I began training in Muay Thai and Brazilian Jiu-Jitsu.
How you do one thing is how you do everything. Being a competitive wrestler, Mixed Martial Artist and Boxing enthusiast, I have developed the view of life itself being a sort of struggle, or continuous battle. As the Buddhists say; "life is suffering", or incessantly desiring something non-present at the moment. Consistently working towards my goals led to tangible results which changed my outlook on life from an early age. Before long, I had achieved most of my fitness goals (which positively impacted every other area of my life as well) and noticed that my transformation in appearance, disposition and lifestyle had begun to inspire those around me.
While I did all the hard work "by myself" so to speak, I was never alone on my journey, as I always had inspiring models to emulate and get motivation from. Success leaves clues after all. While studying at the George Washington University's School of Public Health, I began training friends and teaching them to how to make lifestyle changes that improved the quality of their lives too, discovering my passion for helping others manifest their greatness in the process. All of us are in pursuit of our own personal championship, whatever that may be. However, the road to get there does not have to be an excruciating snore fest, or be treaded in solitude. Because when your reason "why" is strong enough, when you've got the right people in your corner backing you, and are able to have some fun along the way, there is no battle in life in which you cannot come out the victor!
NASM Certified Fitness professional
NASM Certified MMA conditioning Specialist
FitBoss Certified Group Fitness Instructor
Usui Reiki Ryoho Shoden & Okuden Level Certified Jikiden Reiki Healer
"The only good luck many great men ever had was being born with the ability and determination to overcome bad luck." – Channing Pollock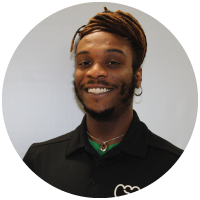 Shaq Bennett,
Personal Trainer
Email Shaq