I started exercising and "training" when I was five years old. Every morning, I would run with my dad and practice pushups, sit-ups and headstands with him in our living room. Inspired to get "squares on my stomach" after watching Stallone and Schwarzenegger on the big screen, there was hardly a free moment when I wasn't hitting my punching bag, doing chin-ups in my room or running top speed down the street.
Playing various sports through school, one thing remained constant: my love of training. There was nothing better than a secluded field, gym or basement where I could sweat and strain and work until my body trembled and I knew that I was going to better myself in some way. The exertion was sheer bliss. From basketball to martial arts to bodybuilding, my love of physical culture is just as strong today as when I first started.
I am thrilled to share what I have learned with my clients, friends and anyone who cares to listen!
NASM Certified Personal Trainer
NSCA Certified Strength & Conditioning Specialist
ISCA Kickboxing
CPR, AED & First Aid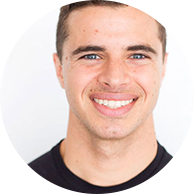 Mark Samara,
Personal Trainer
Email Mark