Growing up in Santa Monica, California I was lucky enough to try a variety of team sports (basketball, soccer, baseball) as well as other outdoor activities (SCUBA diving, mountain-biking, backpacking). However it wasn't until I discovered volleyball that I was truly hooked – graduating high school with athletic and academic honors. I then took my passion for volleyball to Princeton University, where I played with the Division-1 varsity team and graduated with my B.A. in Psychology & Neuroscience.
Fitness, health, and wellness were always an interest of mine – I even wrote my senior thesis on how dietary interventions and exercise can both improve mental health. However, this passion became central to my life while recovering from years of playing such an explosive and jumping-intensive sport. Pain and injuries involving my knees, ankles, right shoulder, low back, and fingers were constant issues to the point where normal daily activities became a struggle. But these challenges only made me more driven to find out – what do I have to do to feel better?
As a fitness professional, I try to bring everything that I've learned to the table: lifestyle habits crucial for success (sleep, water, stress), weight-loss strategies, proper exercise mechanics, evidence-based nutrition, injury prevention, and mobility/flexibility for healthy joints. I can proudly say that I am stronger and fitter than I ever was as a collegiate athlete, but most importantly – I'm completely pain-free! I strive to bring all my clients the same amazing results that I've had the privilege of experiencing firsthand.
Outside of the gym you'll find me playing guitar at open mics, raiding local restaurants (Thai and Indian are my favorites!), or going through my bucket list of "must-see" Boston attractions
Princeton University – B.A.Psychology & Neuroscience
A.C.S.M. Certified Personal Trainer
American Heart Association CPR & AED Certified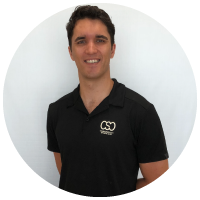 Greg Wilson,
Personal Trainer
Email Greg