I have been passionate about fitness and nutrition my whole life.  I grew up in Brazil where I played soccer, basketball and skateboarded the streets of Sao Paulo. I moved to the U.S. in 2001, fell in love with the people and the culture.  Since giving people fitness advice and talking about fitness in general was always my favorite topic, I decided to become a fitness professional.  Once I began really helping people reach their fitness goals, I knew it was the right move.
My specialties include:  patience & listening.  I take time to really listen and understand an individual's struggles and I truly enjoy working with them to get beyond any difficulties.  My favorite clients are the ones who have goals, whatever they are: from losing weight or rehab to injury prevention or becoming a better athlete.  I believe that educating my clients to help achieve an overall healthy lifestyle is the most important part of my job and I know it's a big responsibility! The smile on my client's faces when they are a step closer to their goal is the most rewarding feeling.
I've seen first-hand the benefits of combining all the components of fitness and apply that idea to my own life.  Getting stronger and staying healthy overall keeps me from getting injured, gives me plenty of energy and stamina to move and keep up with my two very active daughters (ages 2 and 4).  My favorite hobbies are spending time outdoors and cooking.  My own personal goal is to die young, as late as possible.
NASM, National Academy of Sports
Medicine Certified Personal Trainer
Kfit Kettlebell Level 1 Certified
Animal Flow Certified Instructor
CPR & AED Certified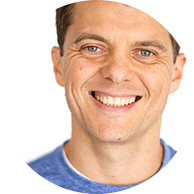 Evandro Lisboa,
Personal Trainer
Email Evandro